The Leading Orthodontist in Los Angeles!
Caring for your dental health is our passion. Let Drs. Florman and Gailani care for your orthodontic needs. For three generations, the Florman family has been dedicated to providing quality dental care to children, teens and adults. Drs. Florman and Gailani are dedicated to your well being and happiness. Orthodontics is not just our profession, but our passion!
Our Practice - Your Smile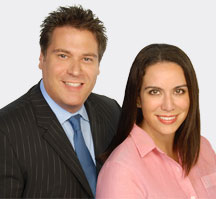 With over 30 years of combined experience, the husband wife team of Dr. Michael Florman and Dr. Dunia Gailani is your choice for quality orthodontic care.

We pride ourselves on being highly skilled and experienced, offering patients the latest orthodontic technological advancements in a warm, friendly environment. Incredibly trained support staff, convenient office hours and locations make your stay at Florman Orthodontics memorable.
Some of Our Treatment Options
Here are just some of the treatments we provide:
TMJ
Teeth Whitening
Night Guards
Experience That Matters
Dr. Florman and Dr. Gailani are in the top 1% of all Invisalign providers in the world based on the number of Invisalign cases that they have completed. What this means is that Florman Orthodontics has skill and experience using clear aligners such as Invisalign to perfect your smile. This experience is invaluable in the proper diagnosis and treatment planning of each patient's case. This type of experience can only be earned by successfully completing thousands of Invisalign and other clear aligner cases.
We know what works using Invisalign and what will not. Not all tooth movements are predictable using Invisalign. Our skill and experience takes the guesswork out of your treatment. Unlike inexperienced Invisalign providers, you'll receive what you are promised and you'll be informed what to expect.
To aid in difficult tooth movements, Florman Orthodontics has developed many unique techniques to aid Invisalign in getting the teeth into proper alignment.
For the patients that do not qualify for traditional Invisalign, Florman Orthodontics has developed a Hybrid™ Invisalign treatment which involves the use of conventional orthodontic appliances in conjunction with Invisalign aligners to tackle almost any malocclusion (bad-bite). Hybrid Invisalign is only available at Florman Orthodontics.
Please call our office at 866-220-8181 or fill our the quick contact form on the right for any questions or to schedule an appointment.